Welcome!
Prof . Dr. Jacques VILROKX
Honorary Chairman of Forum der Regionen

Professor of "Organization Sociology", "Labour Sociology", "Industrial Relations" and "Labour Market Policy" at the Vrije Universiteit Brussel.
Director of TESA (Study Group in Technological, Economic and Social Change and Labour Market Research).
Director of the Centre for Sociology at the V.U.B. (1990-1994).
Vice-Dean of the Faculty of Economic, Social and Political Sciences and Solvay Management School (1997-1998).
Dean of the Faculty of Economic, Social and Political Sciences and Solvay Management School (1998-2002).
Director and founder of the Master programme in European Integration and Development.
Honorary Professor of the University of Almaty.
Guest Professorships and lectures at several universities (St-Petersburg, Lausanne, Sofia, Amsterdam …).
Fellow FAST-programme (Forecasting and Assessment in Science and Technology) of the European Commission (1987).
Member of the Board of the Belgian Labour Relations Association (BVVA).
Member of the Board of ESST (European Science, Society and Technology).
Member of the Editorial board of the Tijdschrift voor Arbeid en Participatie (Work and Participation Journal).
Co-founder, and former member of the Board of Editors, of the Tijdschrift voor Arbeidsvraagstukken. (Journal of Labour Studies).
Member of the International Advisory Board of the European Journal of Industrial Relations.
Belgian President of the Belgo-Bulgarian association Best2B.
Promotor/co-ordinator of European Union ERASMUS-TACIS-TEMPUS projects with Bulgaria ("Modem"), Kazakstan and Palma de Mallorca ("Silk Tour"), Poland, Hungary, Bulgaria, Poland, Germany and Portugal ("Rencom") ...), participant in other E.U. projects ("Sedec", "Inpart", …) and in international networks ("IREC", "BIEN", "ESST", "EURONLINE").


News
Stipendium für den besten Studenten!
In Partnerschaft mit der Organisation "Forum der Medizin" mit Sitz in Sofia wird ein Stipendium für den besten Essay zum Thema: "Realisierungsmöglichkeiten und berufliche Entwicklung der jungen Ärzte in Europa ohne Grenzen" ausgeschrieben. An dem Wettbewerb dürfen alle Medizinstudenten, die ihr Studium in Bulgarien oder in einem anderen EU-Mitgliedstaat aufgenommen haben, teilnehmen. Read more..
Saturday 12 May, Brussels and its European district were celebrating the 20th Festival of Europe.

Every year in May, the inter-institutional Open Doors Day, "Festival of Europe", provides the general public with the opportunity to learn about the EU and its institutions. read more...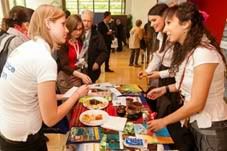 Discussion on "European health labour market – future development and perspectives.
How do Bulgarian physicians fail?"
Speaker Dr. D. Meridonov read more...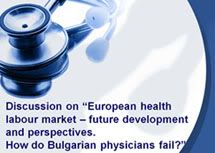 Take the 3D tour in the Spa Center in Kyustendil
Additional files