Mariya Dabova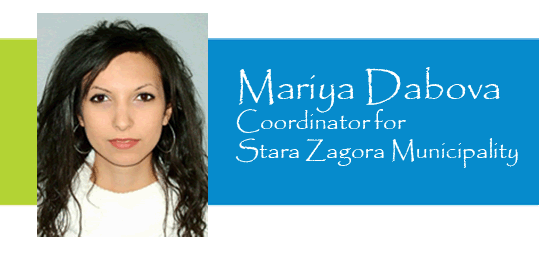 Mariya Dabova is a part of the team of "Forum of the Regions" and is on the position of "Coordinator for Stara Zagora Municipality".
In 2010 she graduated in Sofia University, Bulgaria and has a Bachelor degree in Regional Development and Policy. The main subjects covered are in planning, development of strategies and regional development projects, application of GIS technology in regional development.
In 2011 she has started her master degree in Business Administration in New Bulgarian University, Bulgaria where deepens the knowledge related to the operation of business skills creating strategies to achieve organizational goals. As part of the program she specialized in the field of Human Resources Management in ISCTE Lisbon University, Portugal. The principal subjects covered are in the leading standards and practices of HRM skills for organizational design and human resources development, use of methods and techniques for recruitment, evaluation and motivation, approaches to conflict resolution. During her specialization she participated in Leadership practical training course - an experimental course to develop leadership skills. The course lasts took place in the Portuguese Navy's officers school.
During her studies Mariya participated in educational practice in Ministry of Labour and Social Policy of Bulgaria, educational practice in Ministry of Environment and Water of Bulgaria, educational practice in Sofia Municipality.
She has previous working experience in the field of Human Recourses Management- assistance with the administration of the personnel, implementation of the social policy and personnel recruitment as well as experience in national and international programmes and projects.
Mariya is fluent in English and basic user in Russian and Portuguese.