News
Festival of Europe - Open Doors Day 2012

18.05.2012
Saturday 12 May, Brussels and its European district were celebrating the 20th Festival of Europe.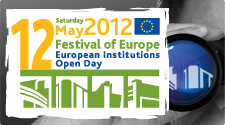 Every year in May, the inter-institutional Open Doors Day, "Festival of Europe", provides the general public with the opportunity to learn about the EU and its institutions. On Saturday, 12 May 2012, the Committee of the Regions was open between 10 am and 6 pm to welcome some 4,000 visitors. While learning about the CoR activities, the guests visited the stands of some 40 regions to encounter the multicultural wealth of regions and cities from across Europe. In addition the CoR presented the exhibition "Beautiful, green, smart and inclusive: colourful cities", which showcases best practice in the area of urban development.
This year the Representatation of the Union of South-East region Local Athorities of Bulgaria was the only Bulgarian representative. It provoked a great interest among the visitors. As part of the cultural programme of the event, the representatives of the South-East Region of Bulgaria were offering degustation of traditional food and wine of the south-east part of Bulgaria. In addition, there were large TV screens filming the incredible scenery and tourist attractions of the region.